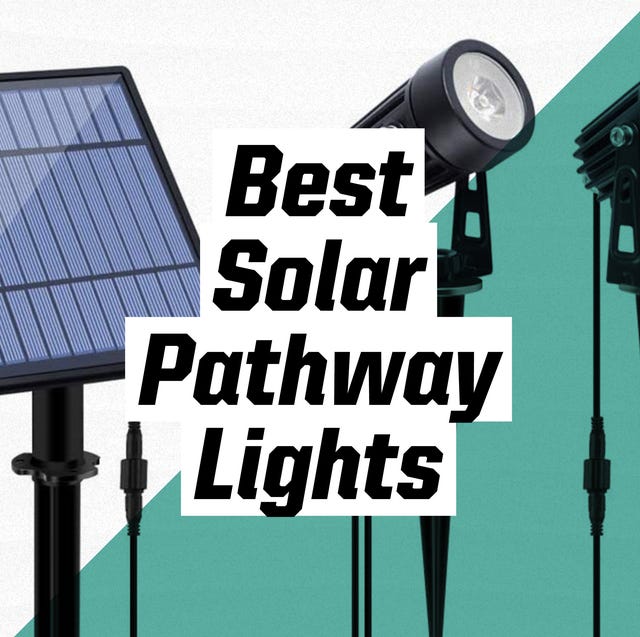 Staff
Solar pathway lights are becoming a fast-favorite for homeowners because they don't require outlets. They're also eco-friendly, energy efficient, and thanks to the array of options flooding the market, increasingly easy on the eyes. While solar lights generally are brightening the lives of homeowners and businesses, pathway lights are especially popular because they're such a beautiful way to welcome visitors and prevent stumbles in dimly lit spaces. Compared to conventional lights, solar lights can also be much brighter, and you don't need to worry about turning them on and off.
What to Consider
Solar pathway lights come in an incredible range of styles and sizes, so it will be easy to match your home's architectural style to a light. These lights are simple to install, without the hassle of wires and attachments. Stick them in the ground, and they take care of themselves. Most models collect light throughout the day and automatically turn on at dusk, automatically giving home owners extra security and safety. If you want very bright lights, then seek out a higher number of lumens; landscaping ambience will clock in around 5 lumens, and a floodlight will deliver about 350 lumens.
Before you click the "buy" button, assess the space you want to erect the lights in, determine how many you'll need, and where you can anchor them in the ground.
How We Selected
We reviewed hundreds of options, and have included lights in a number of sizes and styles, with a range of budget needs in mind. We also looked for lights that have a long battery life, solid construction, and get top ratings from customers. All of our lights are also made by companies with excellent customer service ratings.
Advertisement – Continue Reading Below
1
Best "Moon" Light
Moon Crackle Stake Light
Homeimpro
amazon.com
$25.99
This solar-powered garden light turns on automatically at night for a full six hours of illumination. Moon Crackle is a 40-inch-tall stainless steel garden staff, topped by a patterned Cheshire Cat-style moon, cradling an LED dome. The solar light is durable and weather-resistant. 
The installation is simple. Batteries are included. Reviewers adore it; one says it's "everything I had hoped it would be. It's bright, yet subtle and nothing short of beautiful." Another loves it because it makes their "garden look more fancy in the summer."
2
Traditional Style
Bronze Outdoor Landscape Light, Set of 6
Hampton Bay
amazon.com
$32.09
These decorative brush bronze posts come in a six-pack. They are 12 x 4.7 inches, and create a subtle, elegant light effect along your outdoor paths. This set is ideal for traditionally appointed homes and gardens, require no maintenance and are a snap to install. 
One reviewer says, "I've invested in quite a few of these and they are extremely durable. I recharge the batteries every spring and they've lasted several seasons." However, for those hoping for serious brightness, move on. "They look great along a patch or flower bed, but don't give off a ton of light."
3
Most Colorful
Color Changing Solar Lights, Set of 10
ExcMark
amazon.com
$36.99
This 10-pack of solar lights is a great way to add splashes of color to your pathway. The 16.3 x 4-inch lights install in seconds, and each one contains a rechargeable AAA battery for longer-lasting use. The battery charges by day and then automatically turns on for 6-8 hours during the night. The lights are also durable and weather resistant. Some reviewers like to keep these multicolor lights on year-round, while others preferred breaking them out for parties and other festive occasions. 
One reviewer notes that "the colors alternate, and are very aesthetically pleasing. I've been getting compliments from my neighbors (adults and children)."
4
Best Sunflower
Sunflower Solar Stake Lights, Set of 2
These decorative sunflower lights soak up the sun during the day and turn on automatically at night. These art deco-style flowers are almost 30 inches tall. One reviewer says the flowers "look so festive during the day and equally festive at night." Another loves that the "bright yellow is a perfect standout in the day and they are very bright at night!"
5
Most Elegant
Solar Powered Path Lights, Set of 2
GIGALUMI
amazon.com
$20.99
This two-pack of solar yard lights features powder-coated steel and a large window-shaded lampshade, adding charm and elegance to your pathways, garden or driveway. The lights charge during the day, then turn on automatically at night, lasting up to eight hours before requiring a recharge. They are designed to withstand weather extremes. The lights feature a 100% satisfaction 60-day guarantee. Reviewers love how durable they are, and how bright the light is. 
One writes, "these solar lights are absolutely waterproof. After a heavy rain period, they are still alive and work like before." Another calls them a "great product … bright enough to illuminate a patch with a soft yellow glow that doesn't glare in your windows at night." 
6
Mega Wattage
LED 2-Watt Solar Spotlights
These lights will put a serious spotlight on whatever you aim it at. With an output of 150 lumens, the lights soak up power all day and pump out bright light for 8 hours on high and for 12 hours on low. Many people use these lights to highlight and showcase elements of their home near their paths, such as sculptures or fountains, in addition to providing much-needed illumination for navigation. 
These lights are highly reviewed by those seeking "powerful lights," but it should be noted that they must be installed with a small solar panel (it's part of the package), which will be a deal-breaker for many.
7
Best Lantern
Star and Moon Solar Pathway Lights, Set of 6
GIGALUMI
amazon.com
$39.99
This six-pack of solar-powered garden lights features lantern-style lights with a hollowed-out star-and-moon-shaped patterns on the metal lantern. Reviewers love the patterns it throws on the walkway. 
It soaks up power during the day and switches on automatically at dusk. Some reviewers even utilized these lights in their trees and on their patios, in addition to their pathways, creating general outdoor ambience. The lanterns stand just under a foot tall and include AAA batteries.
One reviewer raved that they've "gotten so many compliments! Have them leading a path through my garden and around my gazebo and it truly is magical at night!!"
8
Most Subtle Lights
Solar Ground Lights, Set of 8
These disk lights provide the perfect pop of subtle light along pathways. They provide light without drawing attention to themselves. This eight-pack of waterproof in-ground lights can be simply popped via their built-in stakes into the ground. They soak up rays all day and then turn on automatically at night. They come with a one-month free turn money-back guarantee. 
One reviewer says they're "well designed" and "easy to set," plus they "appear more fancy than others I've had in the past. If I ever needed to purchase again, I would without hesitation!"
9
Best Tiki-Style
Solar Flickering Flame Torch Lights, Set of 4
Aityvert
amazon.com
$69.99
This four-pack of tiki-torch style lights is a wonderful way to welcome guests up your pathway, but many also use it as a decorative element at outdoor BBQ and camping events. The LED "flames" cast a safe, moody glow. The solar torches are 42.9 inches tall, and come with a built-in rechargeable battery that gives light for 12 hours in the summer and 5 hours in the winter when fully charged. 
Reviewers "LOVE these lights," calling them "amazing," "realistic" and "beautiful. Love them so much I bought my mother-in-law a set." 
10
Firework Lights
Solar Firework Lights, Set of 2
EPIC GADGET
amazon.com
If you are hoping to spark conversation with your pathway lights, this two-pack of firework solar lights may be the way to go. The multicolor string lights are solar powered, and waterproof, with flexible branches that can be shaped as desired. Each "firework" is 10.5 inches around, and features 105 small lights. They add brightness and fun to walkways, and party hosts love to set them up around the yard for whimsical touches of sparkle.
This content is created and maintained by a third party, and imported onto this page to help users provide their email addresses. You may be able to find more information about this and similar content at piano.io
Advertisement – Continue Reading Below