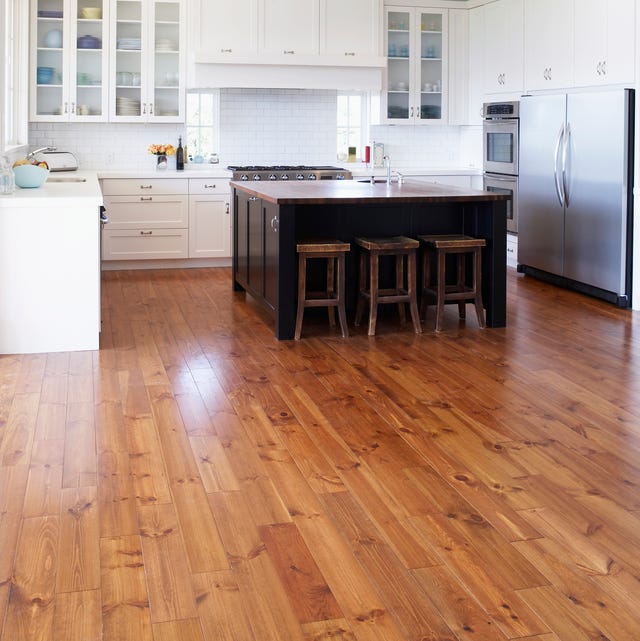 Ivan HunterGetty Images
Are those beautiful hardwood floors you invested in starting to look a bit dull? Whether it's time to deep clean some heavily stained surfaces or you're just looking for the best product to maintain your hardwood floors day-to-day, it's important to use the right ingredients and techniques. "When you care for your hardwood floors properly, they'll last a lifetime," says Erin Steinemann, The Home Depot's cleaning merchant.
"Whether for oak, pine, bamboo, or other wood, I recommend keeping the following schedule for optimal performance: Sweep, dust, or dry mop daily, vacuum weekly, and clean high-traffic areas with a damp mop twice a month," she continues. Steinemann also advises cleaning with hardwood floor cleaner once a month, applying a fresh coat of finish every three to five years, and sanding and refinishing every ten years. Now that you know the prime cleaning schedule, let's talk supplies… Ahead, discover the ten best hardwood floor cleaners, form sustainable and eco-friendly options to convenient cleaner and mop bundles, and more. Ready, set, go put the gleam back into your hardwood floors.
Advertisement – Continue Reading Below
Floor Cleaner Vinegar Wash Concentrate
Aunt Fannie's
amazon.com
$9.49
Not only is it safe to use proper vinegar solutions to wash hardwood floors, but it's an effective traditional method, often used on original hardwood floors in period properties. Aunt Fannie's Floor Cleaner Vinegar Wash boasts a pet-friendly mixture of vinegar and 100 percent essential oil blends. The brand recommends diluting to one half cup solution per two gallons for use with mop buckets, floor cleaning machines, and spray bottles.
Wood + Floors Large Cleaning Concentrate
Supernatural
supernatural.com
$60.00
For the sustainability-conscious shopper, look no further than Supernatural's Wood + Floors Cleaning Concentrate. Rest easy knowing that your floors are being covered in botanicals and herbs like palmarosa, lavender, peppermint, basil, and fir that will set an aromatherapeutic mood as you clean. The brand recommends pouring two tablespoons of the concentrate into the Supernatural reusable glass bottle and adding distilled or filtered water up to the fill line. Not to mention, the bottle and packaging are super stylish, making it a great option if you're short on storage and need to keep it out in the open or if you want to gift it at a housewarming party. 
32 oz. Orange Soap Wood Cleaner
Murphy Oil Soap
homedepot.com
$4.00
Steinemann says to "avoid using harsh detergents that will dull the surface of your floors. You shouldn't use products like vinyl floor cleaner or tile cleaner on hardwood floors." Instead, use something tried and true like Murphy's wood cleaner. It's been used for over 100 years as a wood cleaner, including on hardwood floors, and is absent of ammonia or bleach contains. 98 percent of the ingredients are naturally derived, including water, coconut, and others for a biodegradable formula. You can also use the oil soap on surfaces like linoleum and ceramic as well.
Sealed Wood Floor Cleaner
The streak-free and non-abrasive formula of the Karcher Wood Floor Cleaner makes it safe and gentle to use on all sealed wood floors. As you clean, you will smell the tranquil lemon fragrance, which makes the housekeeping task much more pleasant. For the most optimal concentration, add one-fourth cap of detergent to a full mop tank of water. The drying time is estimated at around two minutes, which should speed things up for you. 
Natural Plant-Based Hardwood Floor Cleaner
Begley's
amazon.com
$11.99
This citrus and plant-based hardwood floor cleaner is another great environmentally friendly and non-toxic option. It won't leave behind any soapy residue or streaks. For best results, make sure to shake it well, spray or pour directly onto the floors, and then wipe it with a microfiber mop. 
Method Squirt + Mop Hardwood Floor Cleaner
Most floor cleaners (and surface cleaners in general) have citrusy scents, and that's not for everyone. If you prefer almond and nutty fragrances, then this almond-scented Method Squirt and Mop Hardwood Floor Cleaner is a great option for preserving your hardwood floors. The 100 percent recycled plastic bottle contains an ergonomic spray nozzle so you can shoot the solution right onto your planks with ease. The brand's one-step "clean and gleam" means that you don't have to rinse the floor before using it.
Floor Cleaner For Tile & Wood Floors
Attitude
attitudeliving.com
$4.95
Comprised of plant and mineral-based ingredients, this vegan floor-cleaner is Peta-approved and non-toxic, making it a great one-stop-shop for your wood, tile, and laminate floors. It has a mild citrus scent for a fresh smell and look that won't be overpowering and you'll be able to clean all your floors with it. 
Hardwood and Laminate Cleaner
A great option for the spraying and wiping technique to undertake on your hardwood floors, the Zep hardwood and laminate solution restores the luster and shine to your flooring. Simply spray and wipe the surface with a dry mop or towel, and, when finished with the hardwood floor, the versatile solution can be also applied to cabinets, crown molding, and laminate surfaces. If you're in a hurry, this solution is fast-drying so you can move onto other cleaning tasks efficiently.
Marseille Floor Cleaner
Fer à Cheval
food52.com
$22.00
This old-fashioned  (and all-natural) Marseille soap has stood the test of time. It's certified organic and also allergen-free, which is great for households with a history of sensitivities to other cleaning products. Aside from the grime-reducing ingredients, it also contains olive oil and seawater for a little French-scented polish. The actual floor-cleaning process is super simple. You just mix it with water, mop the floors with it, and then leave the floors to air dry—no need to wipe after. 
Hardwood Floor Cleaner and Spray Mop Bundle
Quick Shine
overstock.com
$49.00
Free from alcohol, ammonia, formaldehyde, and paraben chemicals, this floor cleaning bundle means you'll have your entire kit handy in one shipment. The two 64-ounce hardwood floor cleaner bottles are paired with a mop handle, microfiber mop pad, and built-in spray system. Just pour the floor cleaner into the onboard spray bottle and embrace clean hardwood floors absent of streaking, hazing, or sticky residue after wiping with the mop.
This content is created and maintained by a third party, and imported onto this page to help users provide their email addresses. You may be able to find more information about this and similar content at piano.io
Advertisement – Continue Reading Below