LOUISVILLE, Ky. (WDRB) – Mike Metzkes could sell a lot more new-construction houses – especially in the "entry level" market of $200,000 to $250,000. Demand isn't his problem.
Instead, surging lumber prices and the availability of skilled workers like construction managers leave the Louisville division of Arbor Homes and its local subsidiary Elites Homes throttling the number of new homes they're willing to sell each month.
At a time of "phenomenal demand" for new homes, Arbor and Elite Homes are "being very careful," said Metzkes, the Louisville division manager for the homebuilder, part of Tennessee-based Clayton Homes.
The national surge in lumber prices adds a new challenge for the home building industry in Louisville, which still hasn't fully recovered from its pre-Great Recession peak in 2004.
U.S. Census figures show building activity in the Louisville-Southern Indiana metro area has steadily climbed back since 2011, though new-home permits declined in 2020 amid the pandemic because of a decrease in multifamily construction.
The market for single-family homes is nowhere near its pre-Great Recession apex of 7,592 permits. Last year, builders obtained 3,667.
The National Association of Home Builders estimates the surge in lumber prices has added $35,872 in costs to the average new single-family home.
For a "production" builder-developer like Arbor-Elite Homes – where buyers choose from a preset menu of options instead of an infinitely customizable home – the rapid inflation of materials means tremendous risk in selling a new house too far ahead of when construction begins, said Metzkes.
That's because the builder generally has to absorb those price hikes, meaning profits could disappear quickly.
In the company's three entry-level subdivisions, Metzkes said he will allow only six sales each month to be sure homes can be started in a reasonable time – about two months from the signing of the contract.
"If I took those limits off, I think I could sell many more houses and have a backlog that stretches out for months because of how high the demand is," Metzkes said. "But we can't do that … and also manage our margins and the risk for the business."
The challenges for homebuilders come as the overall Louisville home sale market is as hot as ever. In the first three months of the year, listed homes went under contract in average of 39 days, the fastest pace in at least 10 years and 82% faster than a year earlier.
While most new construction homes are pre-sold and not listed on the market, the pace of homebuilding makes a big difference, as newly built homes reduce the competition for existing homes, said Judie Parks, president of the Greater Louisville Association of Realtors.
"There is no question that because we don't have enough new construction, it is putting undo pressure on the resale market as well," Parks said.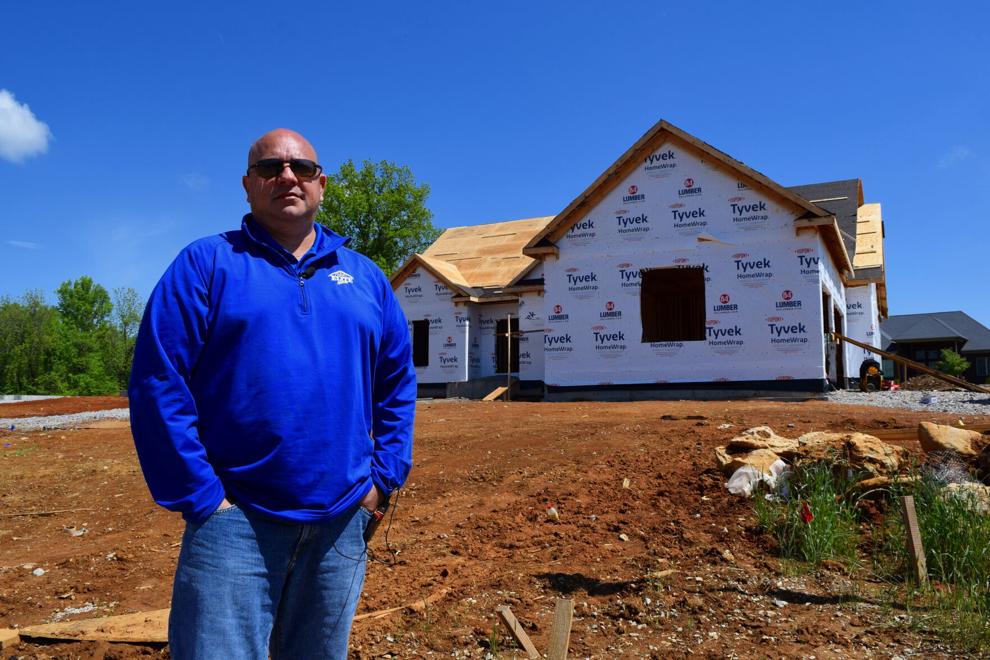 Standing in front of an in-progress home at Elite Homes' Little Spring Farms subdivision in Fern Creek – a "move up" neighborhood where houses cost about $500,000 – Metzkes said the lumber surge might add $60,000 to the home when all components are considered, from two-by-four studs, to cabinets, to trim throughout the house to the OSB sheathing on the roof.
Metzkes said his company has passed some of those costs to buyers in recent contracts, but it hasn't dampened demand. He added that other materials are rising in cost, such as metal for HVAC ducts, copper for electric wiring and resin for windows.
For now, the cost increases are far overshadowed by bigger forces, such as very low mortgage rates that allow buyers to spread price hikes over 30 years and the lack of homes on the market.
"At what point does a buyer step back and say, 'Hey, we're gonna wait for the market to cool down.' I don't know when that is, but as long as rates are low, and the prices are relatively good, the demand is just phenomenal," Metzkes said. "I think people are just gonna keep buying."