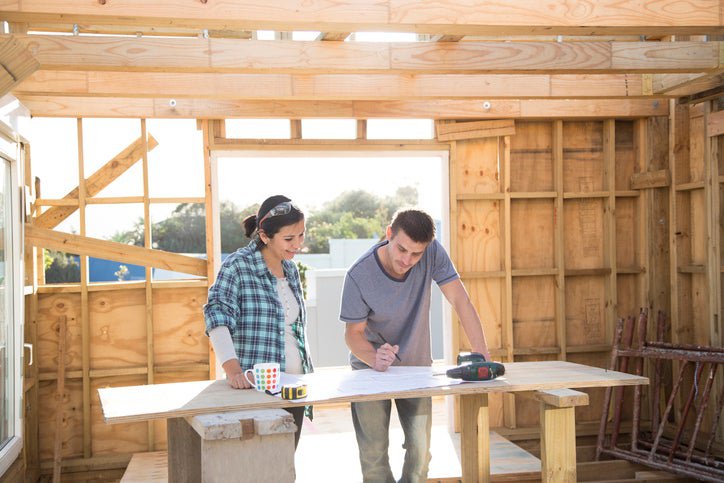 Buyers may have more options for purchasing newly built homes.
---
Key points
You'll typically spend more money on a newly built home than an existing one.
While new construction costs soared last year, this year, buyers may get a reprieve.
---
If you're looking to buy a home, you may be considering new construction. And while there are clear benefits to going this route, the downside largely boils down to cost. 
You'll generally pay a lot more for a newly built home than a home that already exists. And last year, that especially held true. In fact, during the first part of 2021, it was estimated that the typical new construction home cost around $36,000 more than the average existing home. 
But new construction costs could come down this year. And that could open the door to more buying opportunities.
Some relief for prospective home buyers
Since the latter part of 2020, the residential real estate market has lacked inventory in a very big way. That's paved the way to sky-high home prices and limited options for buyers.
At this point, new construction is a good way to add inventory to the mix. And it may become more affordable. That's because as supply chains start to catch up to consumer demand, the cost of certain materials is finally coming down. And lumber is one of them.
Lumber is an integral part of the construction process. And in early May, the price of lumber dropped to its lowest point in 2022. In fact, as of May 9, lumber prices were down 30% year to date. 
Now this doesn't mean home buyers will immediately start to reap savings on new builds. That's because other construction materials are still overpriced, and also, the cost of labor has risen. But if lumber prices keep falling, and other building materials start to follow suit, buyers could see the cost of new construction reach more affordable levels later this year.
Is new construction right for you?
There are pros and cons to buying new construction. On the plus side, you get a home that's never been lived in, and one you may have the option to customize your living space. Want light hardwood flooring in your living room and dark granite countertops in your kitchen? Those are preferences your builder might have an easy time accommodating.
Plus, when you buy new construction, the chances of facing costly repairs during your first few years in your home are slim. Not only is it common for new construction homes to come with a one-year builder's warranty at a minimum, but you'll generally get a multi-year warranty for things like your heating system, air conditioning units, water heater, and roof. And so while you might have to spend on minor repairs during your first handful of years in your home, you might avoid those bank-breaking major repairs.
On the other hand, what you save on initial repairs, you'll pay in the form of a higher purchase price. Even if the cost of new construction comes down, you're still apt to pay more for a newly built home than a comparable one that already exists. And so you'll need to make sure you can swing those higher mortgage payments. 
Plus, newly built homes tend to get assessed at higher values than comparable existing homes. That means your property taxes could be higher. 
Finally, the old saying "they don't build things like they used to" could definitely apply to your new construction home. You'll need to really do some research to make sure the materials your builder wants to use are of decent quality (and either way, make sure to get those materials in writing so your builder doesn't get away with skimping on anything). 
But if you decide to move forward with new construction, you might end up spending less this year than you would've last year. And having the option to buy a newly built property could make it easier to become a homeowner at a time when real estate inventory is so limited.
The Ascent's Best Mortgage Lender of 2022
Mortgage rates are on the rise — and fast. But they're still relatively low by historical standards. So, if you want to take advantage of rates before they climb too high, you'll want to find a lender who can help you secure the best rate possible.
That is where Better Mortgage comes in.
You can get pre-approved in as little as 3 minutes, with no hard credit check, and lock your rate at any time. Another plus? They don't charge origination or lender fees (which can be as high as 2% of the loan amount for some lenders).
Read our free review
https://www.fool.com/the-ascent/mortgages/articles/heres-why-buying-new-construction-may-get-more-affordable-this-year/