As Utah residents continue to read and hear about the current drought conditions, they begin to question what they can do to help the situation. There are things everyone can do to be better stewards of this resource and help use water more sustainably.
One area where changes made now will help in years of drought and for years to come is landscapes. These changes require a change in the way we think about landscapes and the planning and use of lawns.
Traditional landscapes in northern Utah are rarely designed with functionality, resource use or maintenance in mind. If you find yourself in a home where the landscape was designed incompatibly with the function you need, the climate of the area, or your level of maintenance in mind, it can lead to constant upkeep, wasteful watering practices, or swathes of grass that never get used yet demand a lot of time, energy and water.
If you would like to have help changing your landscape to something that fits the local climate and meets the other needs, there is a program designed by people who live here for people who live here: Localscapes.
It is landscaping for where we live, using plants and concepts that work for everyone — most importantly you.
Using a Localscape plan means using five steps to better use the existing space. Before you start, it helps to take a clean sheet of paper and draw your property and house to scale. After this step, you can start designing a Localscape for your own yard.
Note that before you start planning, the default for a Localscape is not grass. Traditionally, you plan where you want to put planting beds. Localscapes however plans where you want and will utilize grass as a specific designed area, adds functional spaces and elements, then finishes with planting beds filling in the rest of the space at the end.
Step 1: Central open shape
Start your landscape plan with a central open shape. This can be any material like gravel, pavement, pavers, ground cover or grass. When using turf, it is a good idea to let your sprinkler system dictate the shape. This approach increases efficiency and prevents frustration by designing your landscape to fit your irrigation system instead of forcing sprinklers to fit your landscape. It is recommended that this space be designed with function in mind and should be no more than 30% of the total landscape area if using lawn.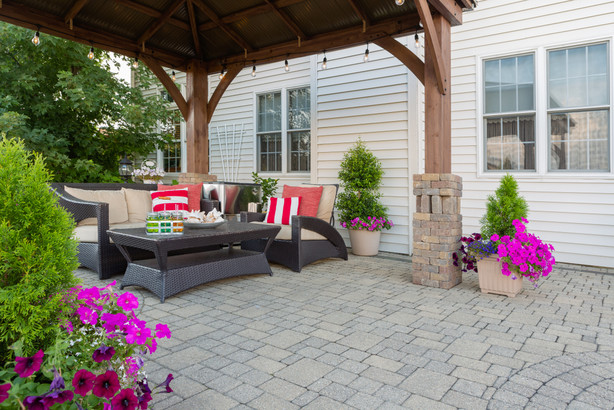 Step 2: Gathering areas
Gathering areas are spaces in your landscape you can use to gather with friends, family, or even use by yourself for some alone time outside. They can be any shape or size and are a great reason to enjoy your yard. Have you always wanted a gazebo, patio, deck, or fire pit? Put it on your plan and design it outside of your lawn area. These areas add interest and value to your landscape by giving you different vantage points to utilize during different times of the day, or year. Consider these spaces extensions to your home's living space, except located outdoors.
Step 3: Activity zones
Evaluate what you want to do in your landscape. Do you want to spend time with your young family outdoors, to dedicate a space to large family gatherings, or do you plan on spending more time with vegetable gardening? All these different needs can drastically change the design and no two yards need to be the same.
An activity zone is any space used to recreate and is customizable to your wants and needs. An activity zone can be space for a vegetable garden, a set of swings, a sports court, swimming pool, sandbox, trampoline or any other activity your family prefers. Just remember that most activity zones are not located in areas of lawn (other than badminton or volleyball) but are separate according to their function, their water needs and the materials needed to create and maintain them.
Step 4: Paths
Now that you have your central open shape, gathering areas and activity zones planned out, think about how these areas connect to each other, to your house, and the connections between them. Paths between each area create ways to enjoy your yard and connect you to your landscape with logical movement and flow patterns.
Use materials appropriate for paths including stone, pavers, flagstone, or any other textured surface. Grass should not be used as a pathway. Narrow strips of grass with high foot traffic will be hard to keep looking good, difficult to irrigate efficiently and take more time to maintain. Paths of durable materials on the other hand can save you time and let you explore or access areas of the yard that may otherwise have been ignored.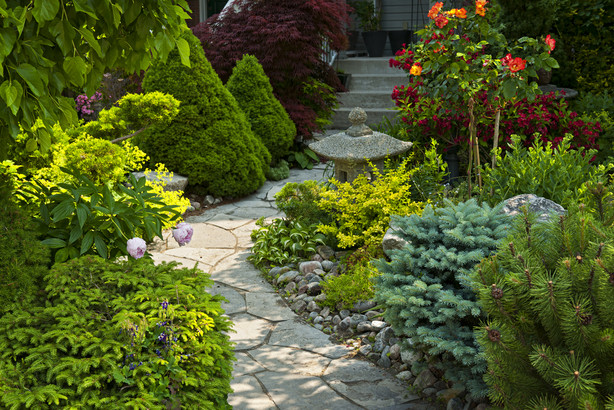 Step 5: Planting beds
The final element of your Localscape is planting beds. They fill in the rest of the area after everything else has been planned for. The proper plantings will tie all the other areas together and create unique and interesting focal points throughout the yard.
Start with your trees. Trees will be the structure and provide shade, screening, or other interest for a very long time. Choose the right trees for the space. Always follow the tags on size and do not plant trees too close to structures or fences.
Next are shrubs. Shrubs range from several inches tall to more than 10 feet tall. These will fill in many areas and provide color, texture, and interest throughout the year. Again, choose types and varieties that will fit your needs but not overgrow your space. If you have space for a three-foot shrub, don't assume you will just prune to keep one small. Choose the right size plant for the right space.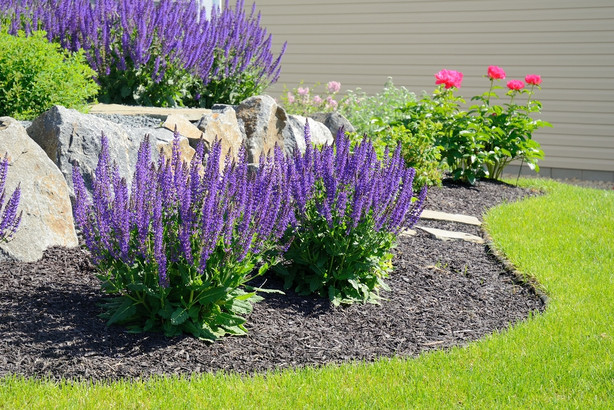 Once trees and shrubs have been designed and planned the rest of the space is filled up with perennials and decorative grasses of your choosing. There are hundreds of varieties of great plants for this climate. Choose plants that have similar water needs so that irrigation becomes simpler and more efficient without overwatering or under watering some of your plants. Your plantings can be very full and dense or you can leave a lot of room and have just a few for focal points.
It is best to water planting beds with drip irrigation to avoid spray blockage and to deliver water directly to the plant roots where they need it. It is efficient and is easy to set up and maintain. When the plants are all in and irrigation is set up, the final thing you will do is to add mulch to help keep soil temperatures even, reduce evaporation, and reduce weed germination. Mulch also just looks great and helps your landscape feel finished. Mulch can be bark, shredded wood or other organic materials, or it can be rock of various sizes and colors.
Following these basic five steps, even if you do them in a phased approach throughout your yard, will create a landscape suitable for your needs, adapted to the Utah climate, will save you time and money, and will reduce your outdoor water needs significantly. To learn more or to participate in free Localscape classes, visit www.weberbasin.com or www.localscapes.com.
×
More stories you may be interested in