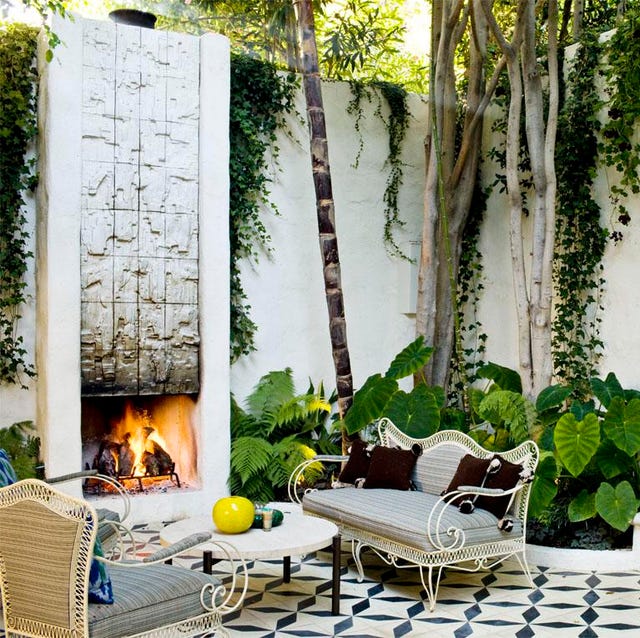 NC
From brick to stone or grass pavers, poured concrete, and wood, there are lots of options when it comes to paving your outdoor area. But nothing upgrade a patio quite like outdoor tiles! Outdoor ceramic tiles are easy to maintain and they're also durable,a major bonus when it comes to outdoor spaces. Not to mention, they also make it easier to incorporate color and style. If you're considering tiles for your own patio, get inspired by the 14 patio tile ideas from designers and landscape architects (and Diane Keaton!) ahead, and learn about what makes this material a great way to set a foundation outside.
Advertisement – Continue Reading Below
Life-sized ceramic tile chessboards are trending, and design trends aside, they also facilitate group fun outside! Instead of spanning the entire yard on this Sonoma property, Ken Fulk opted for a gravel material on the lower tier where the "chessboard" sits.
An eye-catching black and white tile scheme on this patio by Breeze Giannasio modernized the more rustic wood elements without looking overly contemporary and clashing. For a similar effect, choose a whimsical pattern with neutral colors and then use more timeless and neutral furniture that won't overwhelm the eye.
Natural stone tiles that stretch from the ground up to the built-in bench and firewood storage niche give this patio patio designed by Robson Rak a look with a hint of texture. The light brick walls, terrazzo stool and sky blue cushion elevate it even further.
4
Modern and Classic Tiles
Take a cue from this Kingston Lafferty–designed patio, where various tiles make this backyard escape truly special. The whimsical tiles on the floor, partial wall, and bench bring so much joy to the space while the modern sconces and cobalt blue tile table add a little edge, and the scraggly stone wall insert an old world charm.
Landscape designer and Terremoto founder David Godshall opted for a creative hardscape as opposed to grass in this backyard. Not only do playful tiles allow for a welcome pop of color, but they're also drought-friendly and easier to maintain, making them especially great in drought-prone regions. The lush flora surrounding the area allows for plenty of green despite the lack of grass.
A classic lawn yard brightens up this Los Angeles backyard designed by Madeleine Stuart while cement pavers make for a cost-effective patio. Though subtle, the rainbow patterned tiles tiling the pool make a big impact. Former homeowner Diane Keaton added them to the pool area for a pop of fun in the patio area.
This patio, designed by Emily Henderson, feels like a natural extension of the rest of the home and was treated more like an outdoor living room than just your average backyard. From the white recessed lightning that blends right into the overhang to the mosaic tiles and slate border and the cozy layout, this patio is optimized to increase livable square footage.
8
Geometric Tiles and Bricks
You can use tile on other surfaces other than the floor if you don't want to tear up the existing patio foundation. Here, Studio Lifestyle kept the original brick patio flooring but used modern geomtric tiles on the outdoor kitchen island base for more stylish entertaining outdoors.
Here's another example of outdoor tiles on a patio that doesn't require you to tear up the floors. Calais tiles from Granada Tile fill the entire wall and brighten up the the lanai and carry a Florida home's profusion of blue and white outdoors.
10
Brutalist and Classic Tiles
"When we built the courtyard between our kitchen and den, we were inspired by a sunken garden we'd seen in Yucután. We plant plantings on top of the wall so they would cascade down," says Ramin Shamshiri. Classic patio tiles, preppy garden furniture, a brutalist outdoor fireplace facade creates a magical blend of whimsy and edge.
11
Terra Cotta and Zellige Tiles
Terracotta tile pavers are another great patio option. Bright and warm but in a natural way, they're the perfect backdrop for this small California courtyard designed by Sarah Solis. The slate zellige tiles use din the fountain are also a nice addition.
Kingston Lafferty Design made this urban patio pop by alternating tiles of various colors and patterns. The lanterns and tiered plants enliven it even further.
To visually separate the indoors from the outdoors, Anna Spiro Design opted for a subtle but colorful blue and white tile floor on the patio. This ensures a more durable patio designed to withstand the elements but it doesn't look like it's trying too hard to blend in with the hardwood floors inside either.
14
Half Stone Half Patterned Tile
Always say yes to bougainvillea and fire pits! To make the seating area feel like its own nook on a larger patio, California-bases firm Studio Lifestyle laid down tiles with a small Meddetaian pattern to make it stand out.
This content is created and maintained by a third party, and imported onto this page to help users provide their email addresses. You may be able to find more information about this and similar content at piano.io
Advertisement – Continue Reading Below

https://www.housebeautiful.com/room-decorating/outdoor-ideas/g40462830/outdoor-patio-tiles/